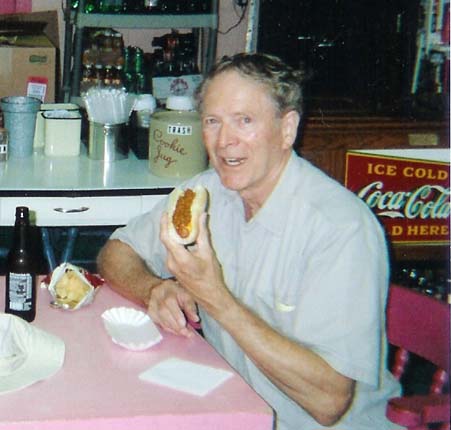 Folly Beach hotdogs
—probably the world's best—
except, maybe, those you relished
in your own hometown's playground.
I often wonder
what made them so great.
I guess it was the onions and mustard
—and the sand, a grinding reminder
to ten-year-old gourmets
that with every bite
we were devouring
Folly Beach hotdogs.
Summers later
my interest turned
from hotdogs to cool girls,
the ones who safely stationed themselves
sixty feet from the surf,
hiding behind sunglasses and feigned disinterest.
I loved them seasonally,
but a fellow can only have what's shallow
with girls who only want to have fun,
and I was looking for someone deep—
like
the
sea
Folly girls weren't for me.
Youth's gone now.
The youth that surfboarded in this morning
was washed out to sea with the noon tide
of imminent middle age.
I still come to the beach,
but I walk farther,
down past the hotdogs and cool girls.
I walk alone along this fragile Edge of America,
seeking a place of solace,
a pristine place where only the ocean
separates a wistful walker from fabled Africa.
I keep walking, seeking a site
not yet found by anyone concerned
more with profit than natural beauty.
I walk until I come to a secluded spot
to share only with a couple of seagulls,
a crab or two, a few terns.
There I spread an olive drab blanket,
strip off restraints of the interior,
expose body and soul
to the balm of late afternoon sunshine
(From the collection Summer Days with Daughter,
copyright (c) 1999 by Eugene Platt.
This version reflects revisions through 10/27/08.)